As an effective learning community, our learning and teaching is grounded in our Vision Statement:
Mary Immaculate School, a dynamic and caring community committed to enacting our faith;
inspiring, challenging and engaging lifelong learners.
(excellence, integrity, inclusiveness, respect)
At Mary Immaculate School, every young person is provided with opportunities to be a successful and purposeful learner, through experiences in and beyond the classroom.  Our students develop skills and dispositions to be lifelong learners who think critically about current issues, whilst building the skills to become active and informed citizens, now and into the future. In a stimulating, positive and supportive environment, collaboration, creativity, problem solving and risk taking are encouraged and celebrated.  Within the frameworks of the  Habits of Mind and the  Growth Mindset, our students are supported to develop positive learning dispositions as they strive for personal and academic excellence.
Learning and Teaching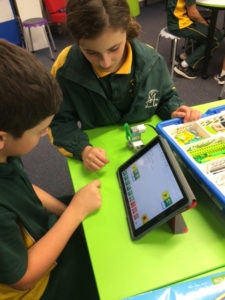 Mary Immaculate School supports, enables and engages our learners in the contemporary world through effectively implementing the Victorian Curriculum. Our learning and teaching programs incorporate an extensive range of learning areas including English, Mathematics, Religious Education, Science, Technologies, Humanities including History, Geography and Civics and Citizenship; Health and Physical Education, Italian and The Arts.  From Prep to Year 6, our students participate in weekly specialist sessions of Science, Visual Arts, Performing Arts, Physical Education, Italian, Digital Technologies and Library.  The  Capabilities of Critical and Creative Thinking, Ethical, Intercultural and Personal and Social, are explicitly taught, developed and supported across all learning areas.
The use of contemporary learning devices such as computers – PC's and MacBooks, iPads, digital cameras, robotics and interactive whiteboards are integrated across all learning areas for all year levels.
Our students' assessment and learning progress is reported formally to parents through the Semester Reports and Parent Teacher Interviews.
All staff at Mary Immaculate Primary School participate in ongoing professional learning to ensure that our students are engaged in authentic, relevant and contemporary learning experiences.